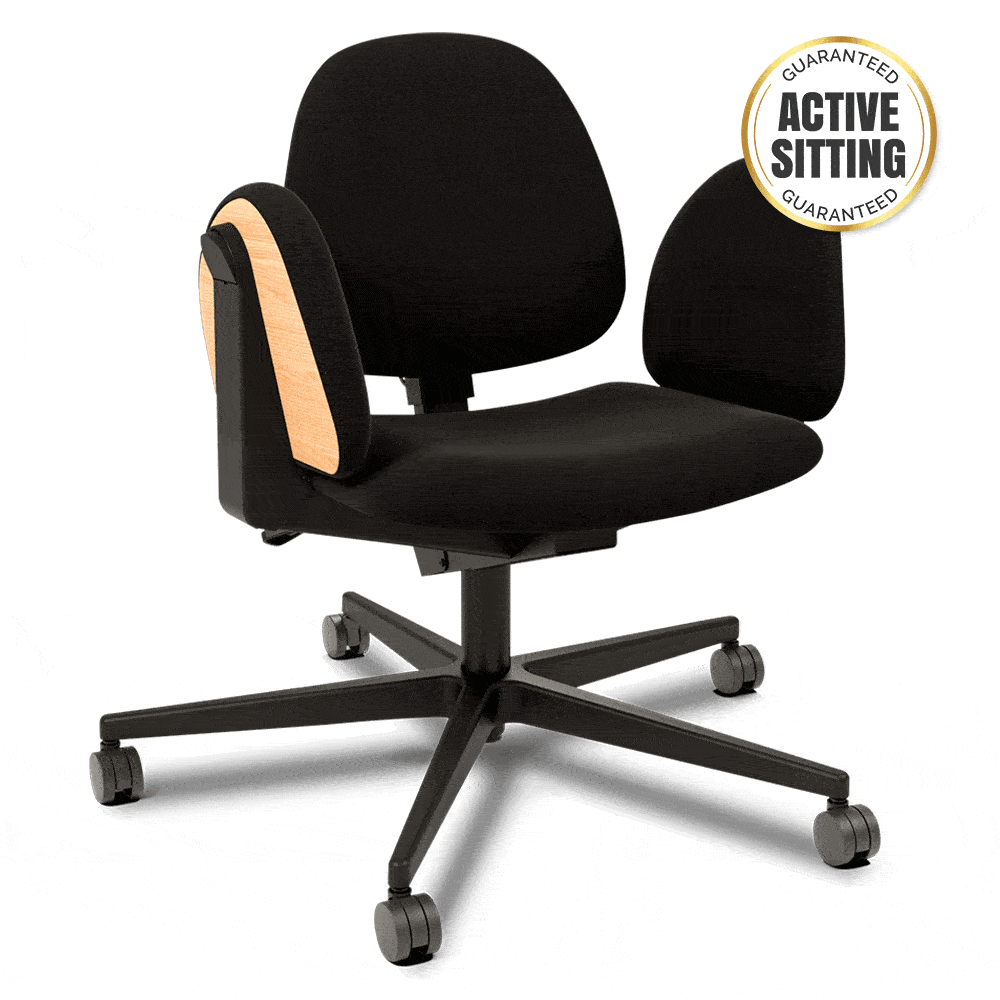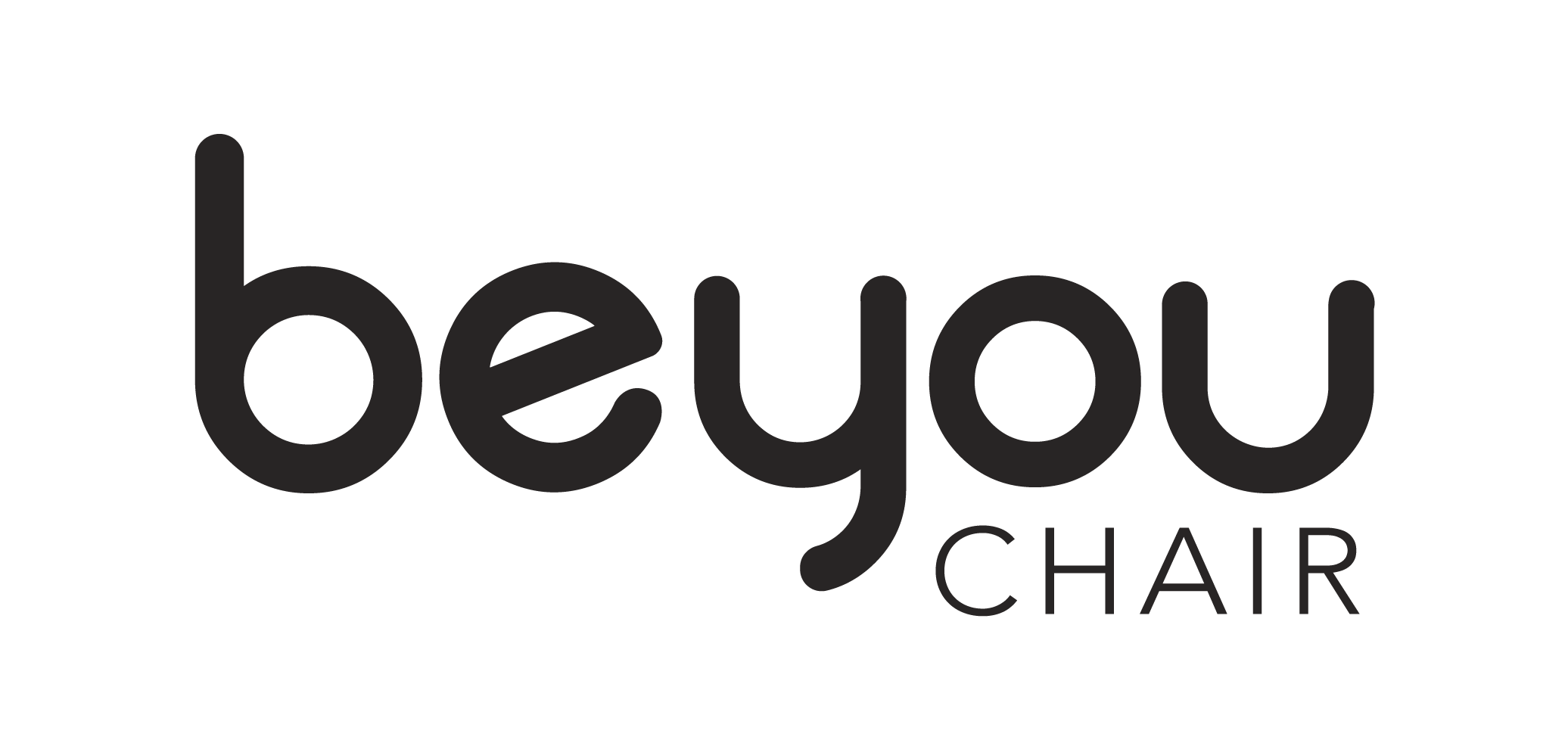 The World's First
Transforming Chair
Work & Relax Comfortably In
10+ Positions
Work & Relax Comfortably In
10+ Positions
Join The Movement Revolution!
Easily Change Positions In Just A Few Seconds​
Enjoy the Benefits of Movement with Active Sitting
Improve Your Posture & Long Lasting Health​
Increase Focus, Enhance Productivity And Get More Done
Upgrade Your Lifestyle To Do, Live & Be More
"BeYou Chair changes the entire landscape of the office and task chair market, completely reimagining what a chair can be."
Active Sitting And Why It Matters
BeYou Chair's virtually endless sitting positions and premium sturdy materials make for an unprecedented sitting experience. "Active Sitting" is the real key to your health and wellness while sitting. The best sitting position is the next position.
Active Sitting For An Active Lifestyle
Change how you sit, change how you feel
Make time for a yoga practice and feel the daily stress disappear. Right on your chair, perfect for basic yoga poses.
Find the focus you need to work better. Lean in and skyrocket your productivity to get more done with exceptional results.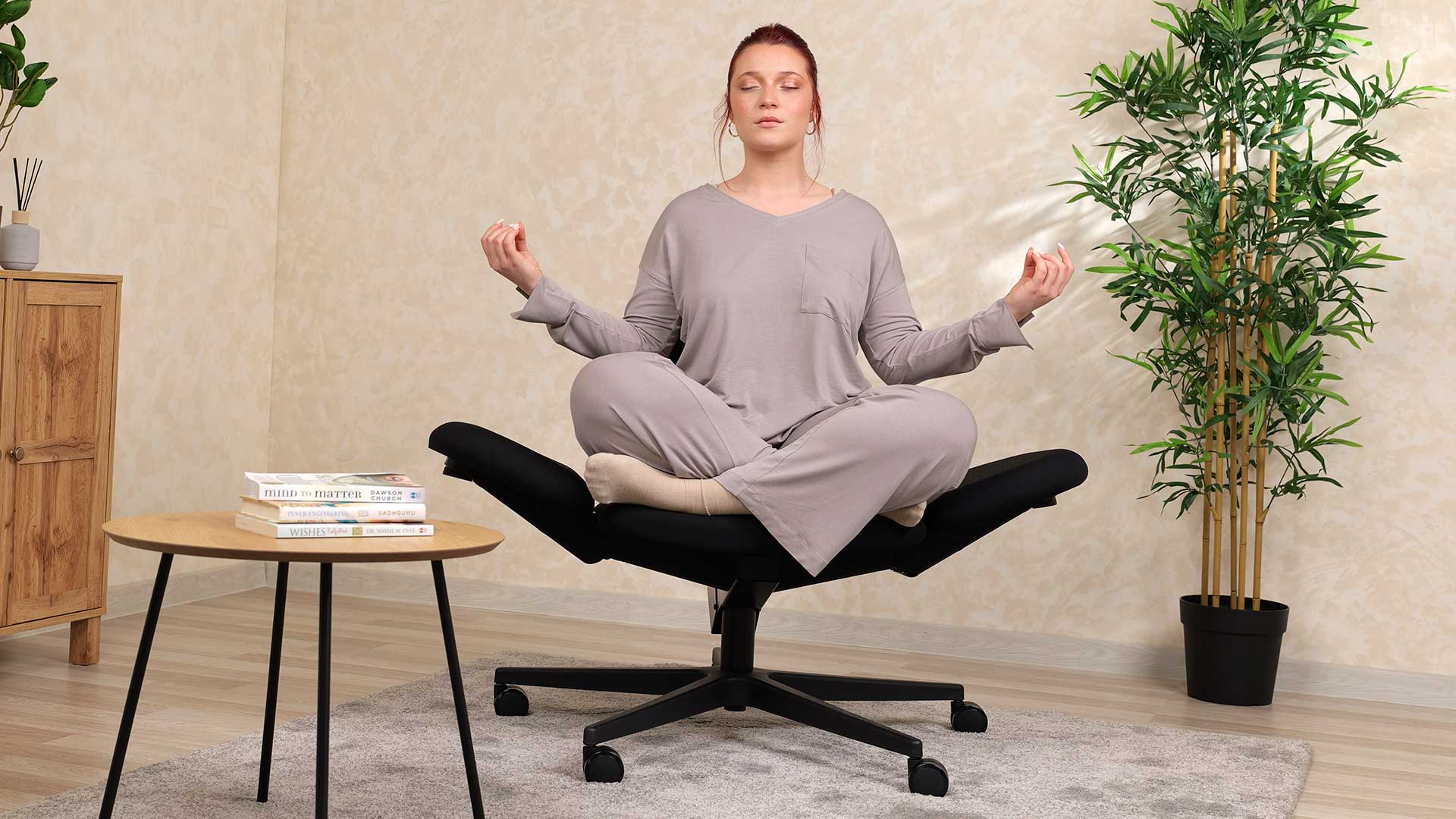 One of the most comfortable positions to sit in is cross-legged. With a chair that helps you sit like that, it's super enjoyable!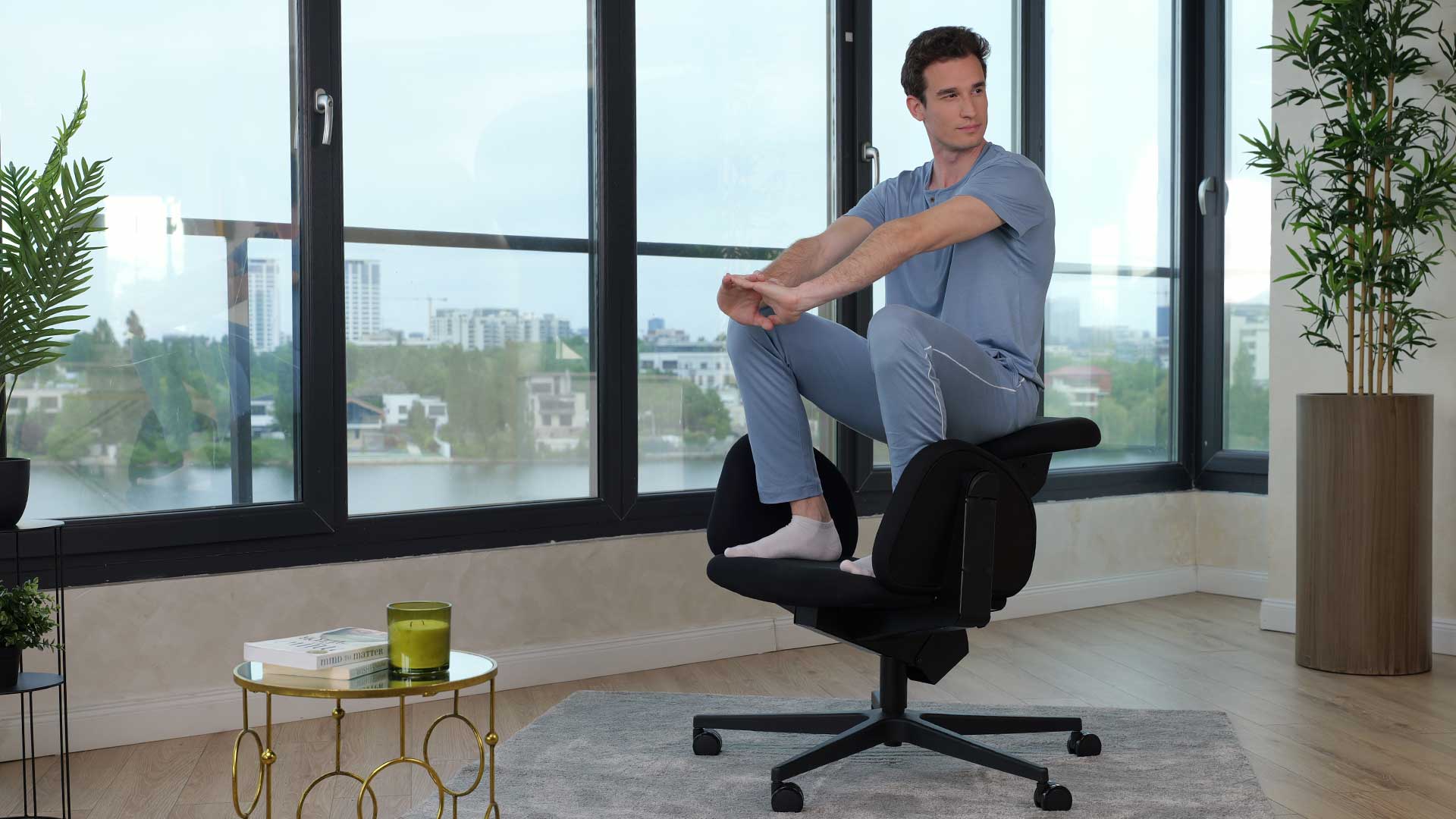 Stretch your muscles to release the tension you've been carrying in your body. Stretching is like surgery without the knife!
So many cultures have been sitting kneeling for hundreds of years. It's comfy, it's natural and it's easy on the BeYou!
Take your laptop, set the backrest horizontal. In seconds, your BeYou becomes your own personal workstation!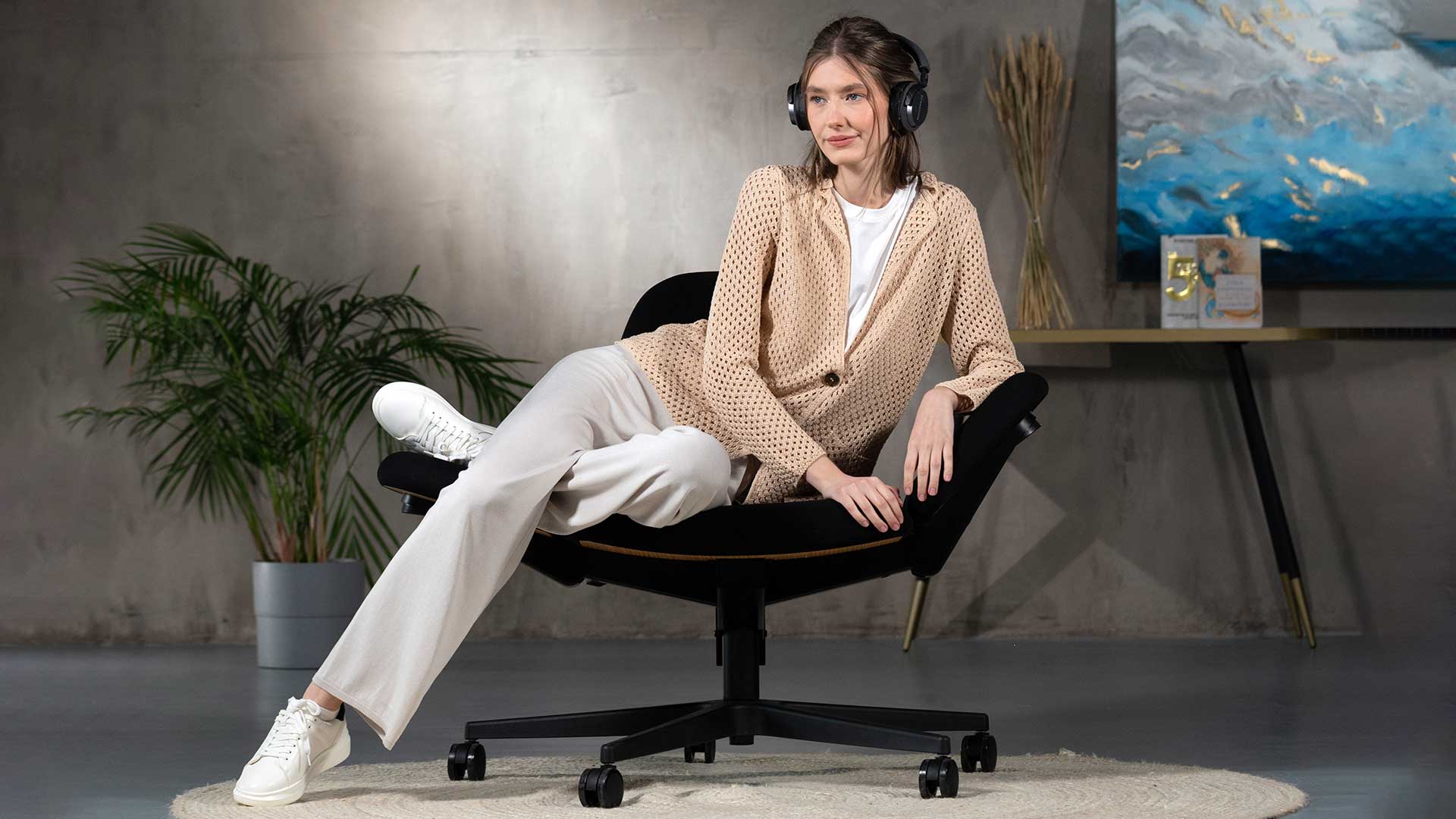 Feel the need to chill a bit, maybe watch a movie, or simply put your feet up? It's time to enjoy lounging comfortably!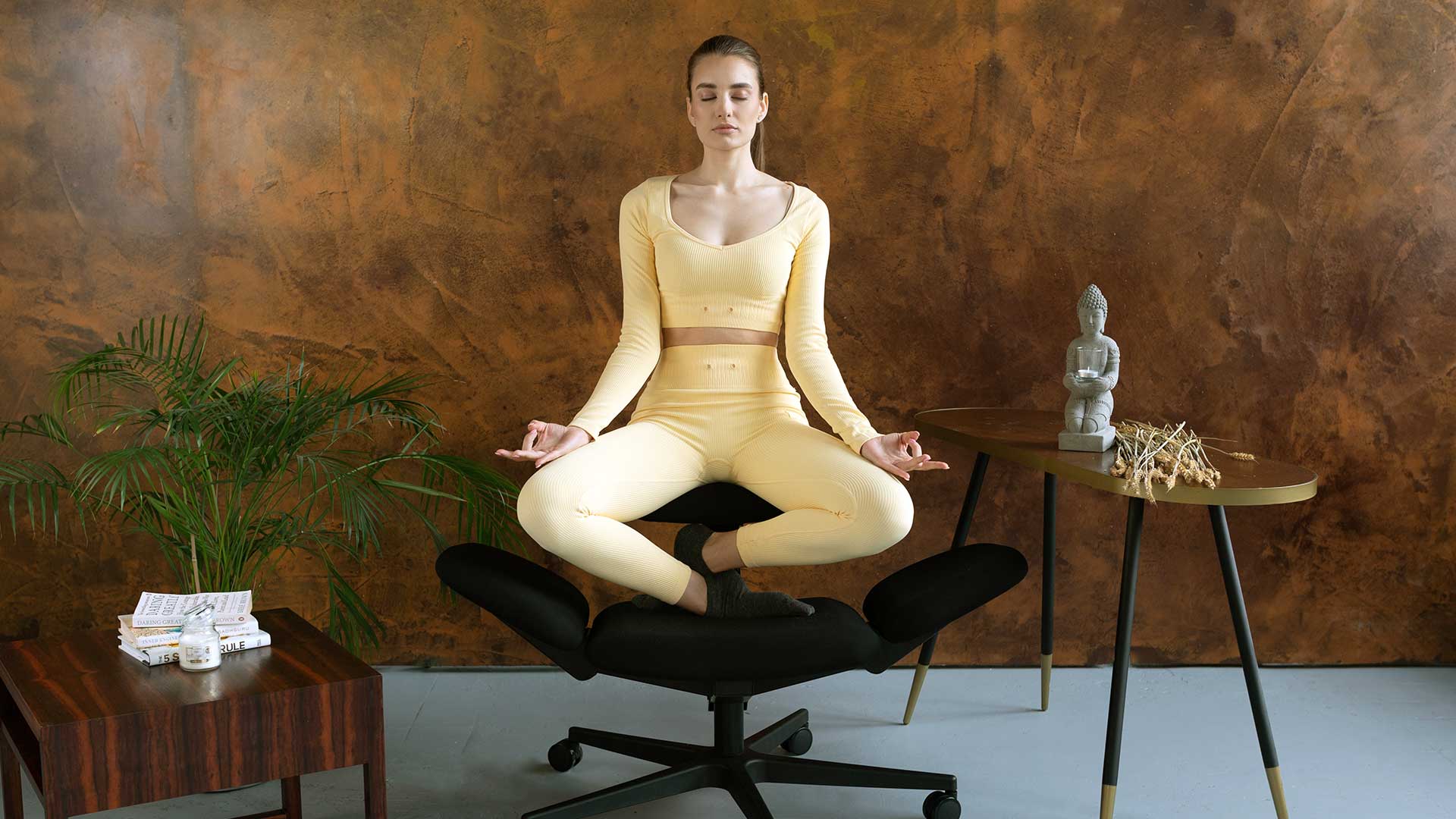 Take a breath, observe your thoughts and notice your emotions. Slowly, let yourself get to a place of calm and quiet.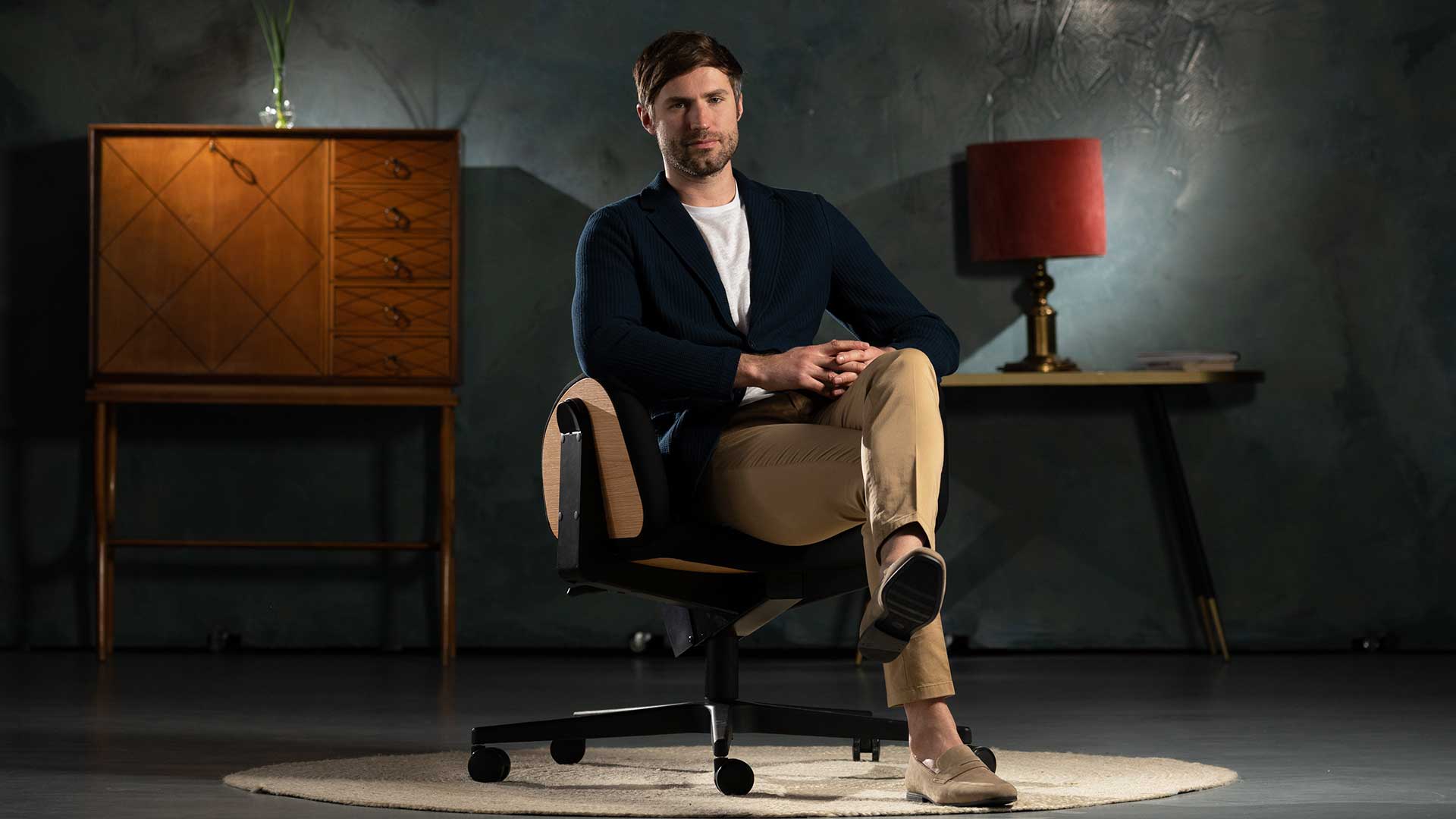 People have been sitting in normal chairs for millennia. That's because it helps you rest and it feels good.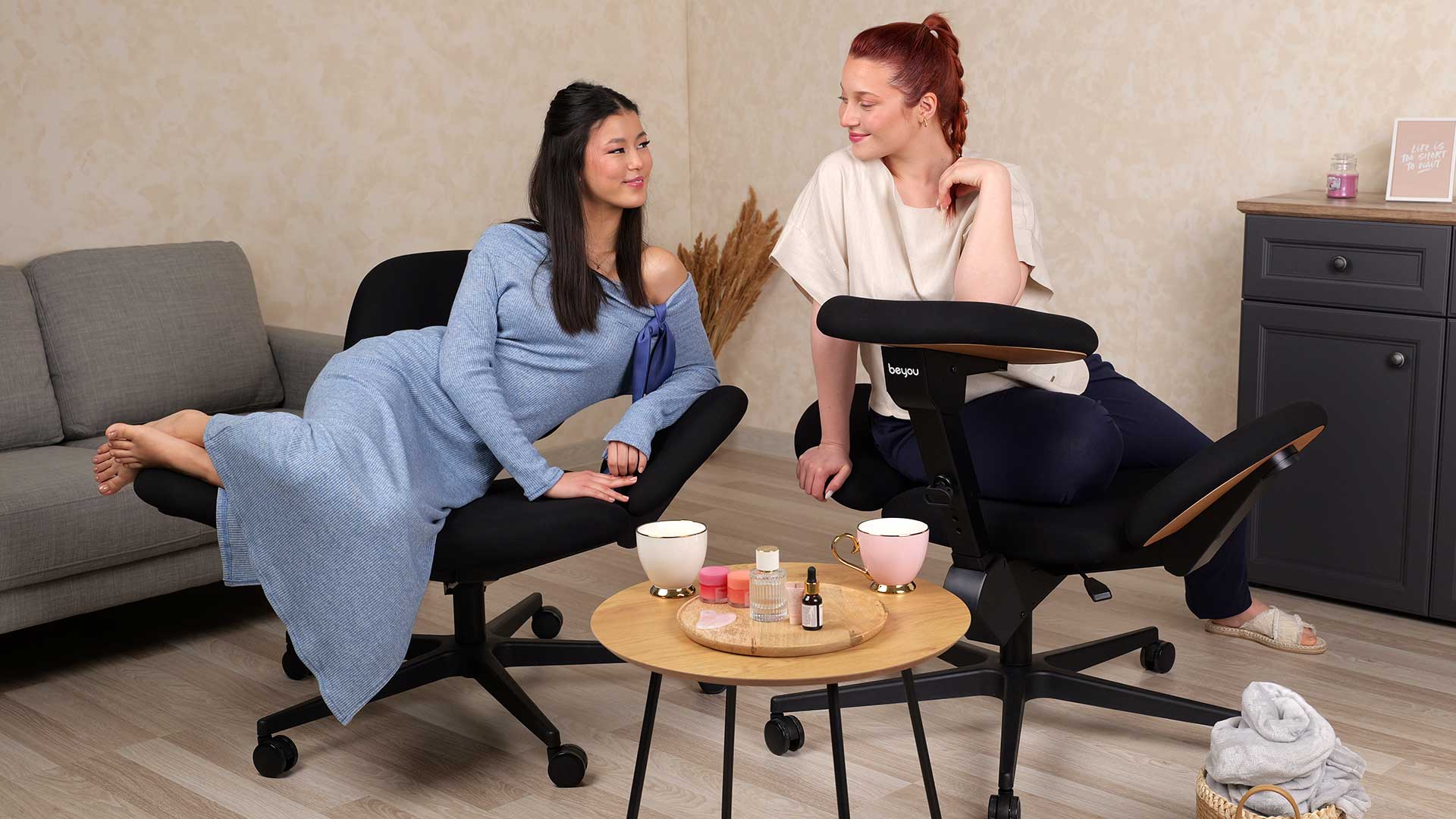 Be creative. Be bold. Sit in any way is perfect to relax your body in the moment. Enjoy freedom to sit however you want.
Change At Your Fingertips
Put the multifunctional wings all the way up, open them flat or anything in between. Use them as a backrest when you're lounging, a headrest when you're getting cozy, or armrests in the regular chair position.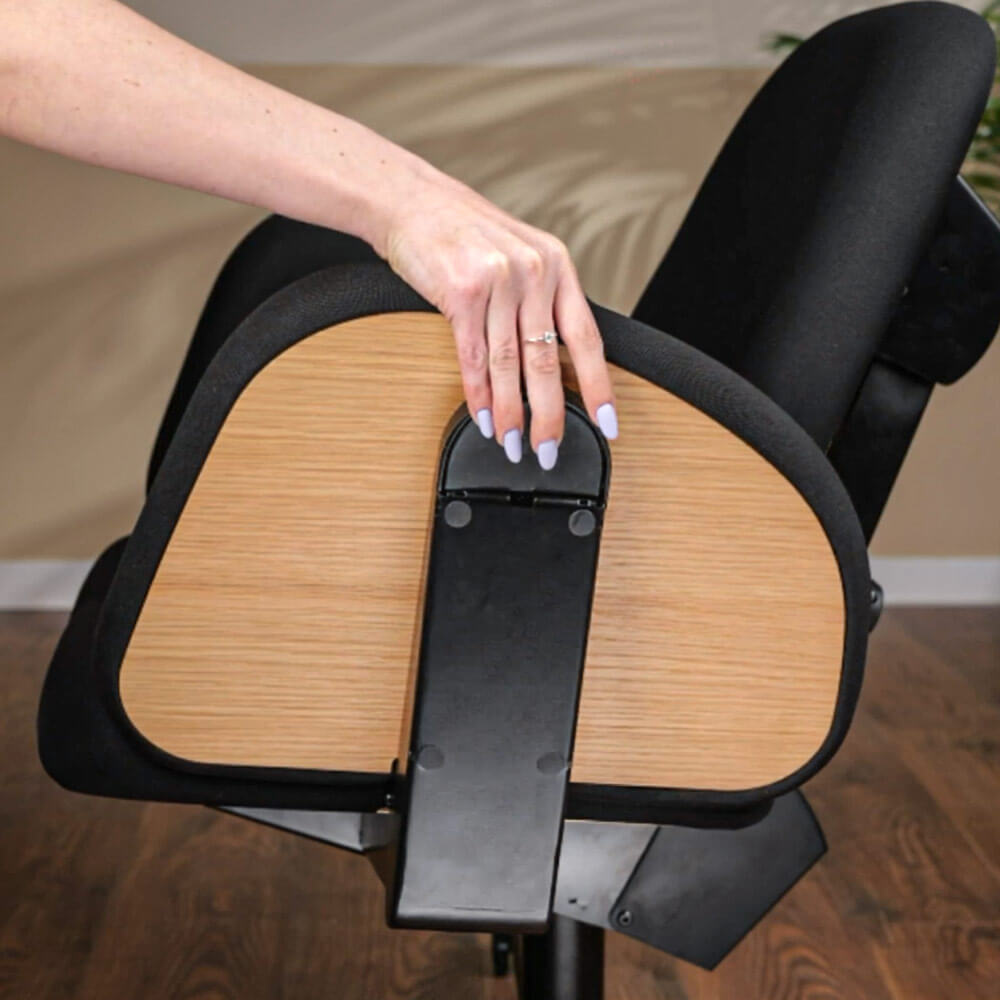 Use the unique backrest to find the sitting position that makes you feel in tune with yourself. One moment, the backrest is a laptop stand that keeps your ideas flowing. And then it's the world's comfiest elbow pad. Now it's a seat. 
The backrest is there to support you. So besides vertical or horizontal, you can also adjust its height. The intuitive handle at the back is super easy to use. Not to mention that all the movement is piston-based and smooth as butter.
The multi-use paddle under the chair is perfect for more adjustments. Lift it up to adjust the height of the whole chair as you need it. Push it down to recline back as much as you want and get comfortable.
The best-kept secret to a thriving life resides within yourself. Changing positions when sitting is as intuitive as tossing and turning when sleeping. Your body already knows the way. All you have to do is listen… and let BeYou guide you to authenticity. It's time to center your greatness — one breath at a time.
We've pioneered a new approach to sitting, with your wellness in mind. Your lifestyle inspired BeYou – the only chair in the world that speaks your body's language. Connect with yourself and sit in any way it feels great to be you.
"relating to or designed for efficiency and comfort in the working environment"
BeYou Chair Is Beyond Ergonomic
The office and task chair industry hasn't evolved in decades. So called "ergonomic" chairs that cost a bomb and only gives you minimal adjustments just don't cut it anymore.
Sit in one stiff position only
Sit in 10+ different ways
Active Sitting Helps Prevent Long Term Health Problems
A sedentary life is the biggest enemy of the century. Physical inactivity contributes to over 3 million preventable tragedies worldwide each year. It's time to take charge of your health!
Experts Encourage Active Sitting
"For optimum health, try to avoid sitting in any one position for long periods of time"
"Studies have found that for people who are most active sitting the impact of movement can be profound"
"For optimum health, try to avoid sitting in any one position for long periods of time"
"If we change the way we sit, it will help to decrease back problems"
A Timeless Classic Is Born
Stunning aesthetics made of over 270 sleek parts. Multiple patents. The impressive strength of a unique metal skeleton.
Over 17,000+ customers have made BeYou one of the most successful crowdfunding campaigns ever! We're proud to say we've helped improve the lives of thousands of people across the world. Now it's your turn!
We Plant A Tree For Every Chair
You have an unquenchable thirst for life and we believe your furniture should do to. One tree is planted for every chair you purchase, keeping the cycle of life going strong.
Assembly Takes Less Than 10 Minutes
A masterpiece of engineering that you can put together in only 10 minutes. It's simple, easy and quick. Now that's innovation!
HOW CAN WE HELP YOU?

Wherever you are, BeYou Advisors will be delighted to assist you.